The constant propagation of new viral agents and in particular of the coronavirus has led to greater attention to pathogen infections in environments where these organisms can survive for long periods increases the risk of contagion.
Easy Automation, taking advantage of its skills in the robotics sector, has carried out the development of robots able to circulate independently in environments of various sizes, and apply the Sanitization and Disinfection processes, with a certain level of sanitization.
The industry measures the level of sanitization effectiveness on a logarithmic scale to show the relative number of pathogens eliminated after disinfection.
To better understand the impact we have reported the number of organisms that survive in a room with one million pathogens.

LIMITS OF MANUAL SANITIZATION
Manual sanitization, performed with traditional spray systems distributed by means of a dish towel, can be more or less rigorous but usually cannot guarantee better than 1-LOG for various reasons.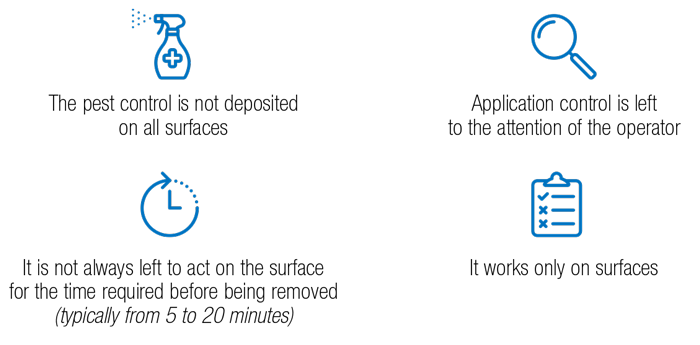 RaSan+ the autonomously guided robot for sanitizing is able to recognize the environment in which it operates by automatically generating a map.
Through a smartphone or tablet, the operator can program the area of intervention, the method and the time of application, so as to define the level of sanitation required and receive an objective report of what has been carried out.
Our health is not left to chance!
RaSan+ uses different sanitization systems according to the characteristics of the environment.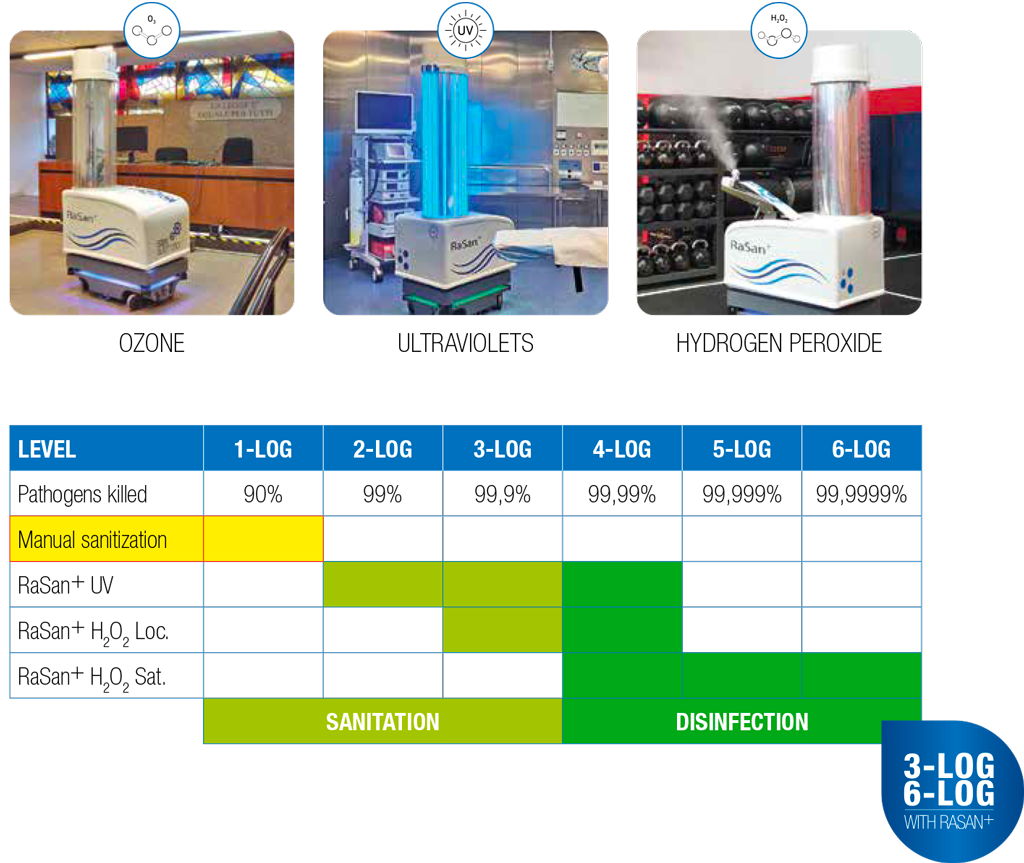 Pathogens killed per million (up to)
Square meters of sanitized shelves per hour
Square meters of sanitized rooms per hour
PREPARATION
RaSan + initially generates a mapping of the work area by detecting the surfaces and components (furniture, desks, chairs, beds, etc.) within the area

The operator identifies the positions and actions for sanitization on the tablet

Stores activities with a specific name

The activity is performed every time it is called up
EXECUTION OF ACTIVITIES
The operator selects the activity

Check the checklist

Launch the execution of the activity

 Upon completion of RaSan +, send the printable graphic report of the sanitation, with the environmental values to allow safe entry

RaSan + is ready for a subsequent operation
APPLICATION AREAS
RaSan + can perform the work in the period of non-use of the premises, for example during the night time so as to find the rooms sanitized in the morning.

WANT TO KNOW MORE ABOUT RASAN+ ?
" We used RaSan + at first more out of curiosity, but then we really appreciated the automatic sanitization, which allows employees to work more serenely and customers not to be worried about visiting us. When the message with the report arrives in the morning, I open my company with more serenity."
Pierluigi Cetto
CEO Converge SPA
" I can only say, simple and useful. We programmed it in an hour, and since then our equipment has been guaranteed for the next day's work. The athletes who attend our gym have really appreciated the attention towards them."
Tiziano Corriga
CrossFit548
" An object that is not only useful but also beautiful to look at, with the formula we have adopted it is not expensive and we make a great impression, as well as sleeping peacefully."
Valentina Galletti
La Maison Air
CONTACT US
+39 06 52364774
info@easyautomation.it
Via Sassuolo SNC - 00071 Pomezia - Roma (Italia)